Squirrel with a winter coat on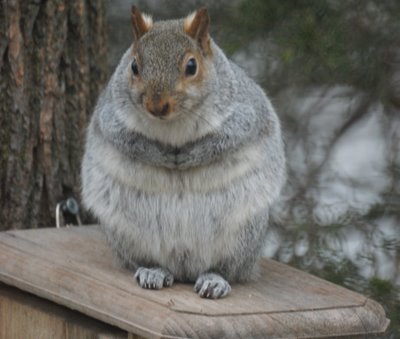 Although we have a squirel proof bird feeder, Chris has grown to accept the squirrels and she even likes one that we call Skippy. He is much better behaved than his cohorts: Fatty, Jif, Scarback, Freaky Tail, Split Ear, Brown Nose and Ugly Face. Here, Skippy is posing with his winter coat on top of the birdhouse.
Labels: Squirrel
jacque said...

Two years ago, when I lived in Austin,Tx,I befriended a female squirrel because she had a badly injured front paw. I would shake the bag of peanuts, she would come down the big oak tree and sit beside me and eat peanuts. Later, she shared the company of her two babies. I have lots of pictures of "shirley Squirrely" and will never forget the experience!
posted by Chris and Mike at 6:03 PM