Saturday, May 24, 2008
Godfinch and House finch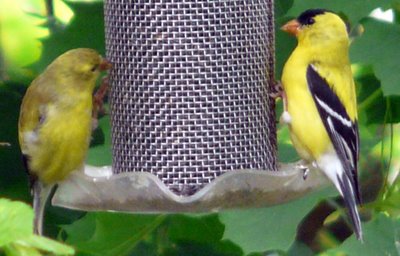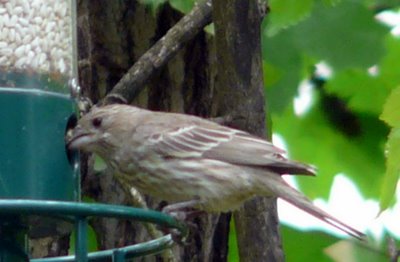 Labels: American Goldfinch, Finch, Spring Birds
posted by Chris and Mike at 3:48 PM


Friday, May 23, 2008
Mallard and Ducklings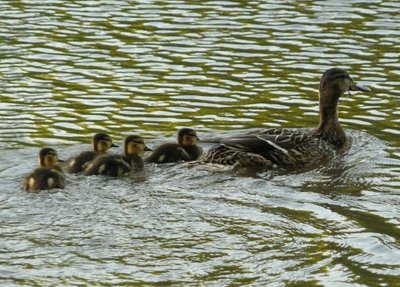 We promise to stop posting pictures of Mallard ducklings soon. However, these were too cute. They've been coming out a dusk and tonight was the first dry day in a while.
Labels: Babies, Baby Ducks, Ducks, Mallards
posted by Chris and Mike at 8:34 PM


Sunday, May 18, 2008
Goslings and Ducklings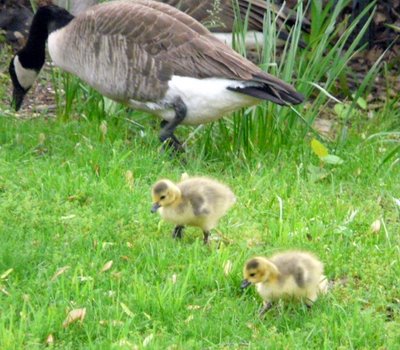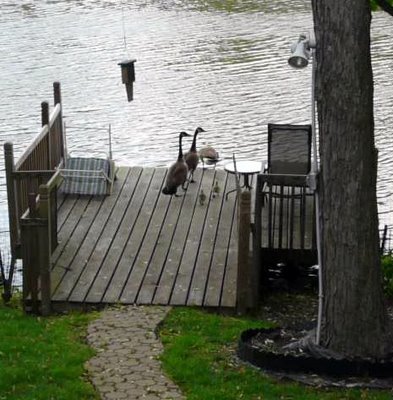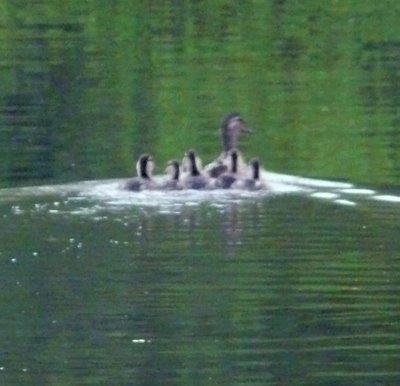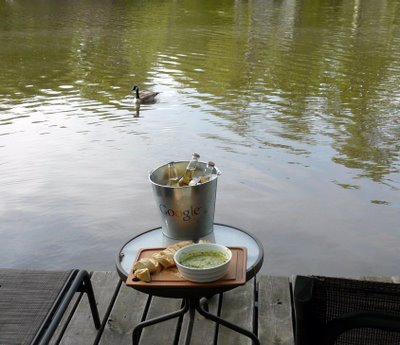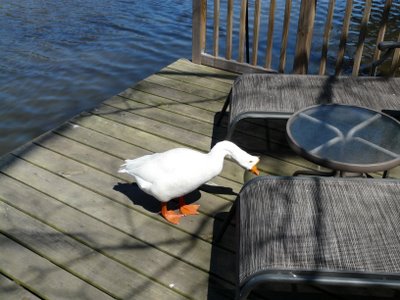 Some geese brought their goslings into our yard today. They left by way of the dock. We've also spotted some ducklings, but none have been very close. We do try to use the dock ourselves. Fortunately, the Canada Geese prefer Molsons to Corona. "Whitey" has been crashing our parties a bit.
Labels: Babies, Canada Goose, Ducks, Spring Birds
Lynn said...

You have a google beer bucket? Nerds. Don't give any beer to the baby geese- they're too young.
posted by Chris and Mike at 4:44 PM


Previous Posts
Jersey Birding Links
New Jersey Rare Bird Alerts
New Jersey Birding Archive
Meadowlands Blog
New Jersey Audubon Society
Cape May Bird Observatory
Ebird: NJ Rare Bird Sightings
TED TEDx Riverside TEDxRiverside
Birds at the Bird feeders
About us
For those of you visiting this site who do not know us, we thought we would offer a brief explanation of how it all happened. We have lived in several different states, including Connecticut, New Hampshire, California, Virginia, and New Jersey. The house we rented sits right on a small lake, so we initially saw lots of geese and some mallards, rather mundane yet enjoyable. There seemed to also be an abundance of woodpeckers, and we started putting suet out for them. Mike frequently gets up early, and while working from his desk in the window this past fall, he noticed something other than geese on the lake. At first it started with a Pied-billed grebe, and then we also saw briefly a Wood Duck or two, a few Ring-necked ducks, Bufflhead, and then the gorgeous Hooded Mergansers. Well, we've fed birds before at other homes, but we've never lived on water, and we were especially fascinated by the beauty of the Hooded Mergansers. We have two grown daughters and family sprinkled around the US, and we were constantly e-mailing them pictures of the birds and ducks, so we decided it would just be easier to put them up on the web to share. We are not real die-hard birders, and we have no formal photography training. We're just a couple who is enjoying the birds and waterfowl of their own backyard and wanted to share them. So, you may find more professional pictures somewhere else, but we hope you enjoy our site as well.
We moved back to California in June 2012, and we've started a new blog, California Birds. Here are our most recent California photos.
Acorn Woodpecker
Alligator
Amazonian White-tailed Trogon
American Avocet
American Black Duck
American Coot
American Goldfinch
American Oystercatcher
American Pipit
American Pygmy Kingfisher
American Redstart
American Robin
American White Pelican
American Widgeon
Anhinga
Anna's Hummingbird
Antillean Bullfinch
Arizona
Arizona Woodpecker
Armadillo
Audubon's Warbler
Australian pelican
Babies
Baby Ducks
Bahama Woodstar
Bald Eagle
Baltimore Oriole
Bananaquit
Barn Swallow
Barnegat Lighthouse
Barred Antshrike
Bearded Bell Bird
Beaver
Belted Kingfisher
Bewick's Wren
Bicolored Conebill
Birdcam
birdhouse
Black and White Warbler
Black Bellied Whistling Ducks
Black Necked Stilt
Black Pheobe
Black Skimmer
Black-billed Streamertail
Black-capped Chickadee
Black-crowned Night Heron
Black-headed Grosbeak
Black-throated blue warbler
Black-throated Green Warbler
Black-throated Sparrow
Black-Whiskered Vireo
Blackburnian Warbler
Blackpoll Warbler
Blue Dacnis
Blue Grosbeak
Blue Heron
Blue Jay
Blue-backed Manikan
Blue-chinned Sapphire
Blue-crowned Mot Mot
Blue-grey Gnatcatcher
Blue-grey Tanager
Blue-Winged Teal
Bobcat
Bobolink
Bolsa Chica Wetlands
Booby
Brant
Bridled Titmouse
Brigantine
Bronze Mannikin
Brown Booby
Brown Creeper
Brown Pelican
Brown Thrasher
Brown-crested Flycatcher
Brown-headed Cowbird
Bufflehead
bulbul
Bushtit
Butterflies
Butterfly
Cactus Wren
California
California Clapper Rail
California Towhee
Canada Goose
Canvasback
Cape Cod
Cape May
Cape May Warbler
Caribbean
Caribbean Elaenia
Caribbean Martin
Carolina Wren
cattle egret
Cedar Waxwing
Channel-billed Toucan
Chestnut-backed Chickadee
Chickadee
Chicken
Chinese Goose
Chipmunk
Chipping Sparrow
Cinnamon Teal
Cinnamon Teals
Clapper Rail
Clark's Grebe
Cliff Swallow
Collared Trogon
Common Eider
Common Goldeneye
Common Loon
Common Mergansers
Common Moorhen
Common Yellowthroat
Contributed Photos
Cooper's Hawk
Copper-rumped Hummingbird
Cormorant
Crocodile
Curve-billed thrasher
Dark-eyed Junco
Dark-eyed Junco 'Oregon' Race
Deer
Dickcissel
Double-crested Cormorant
Downy Woodpecker
Ducks
Eared Dove
Eared Grebe
Eastern Bluebird
Eastern Kingbird
Eastern Meadowlark
Eastern Phoebe
Eastern Towhee
Eastern Wood-Pewee
Egyptian Goose
Elk
European Starling
Fall Birds
feeder
Finch
Flame-colored Tanager
Flamingos
Floating Island
Florida
Florida Iguana
Fox
Fox Sparrow
Frigate
Frog
Gadwall
Gambel's Quail
Garret Mountain
Geejam
Gila Woodpecker
Glossy Ibis
Gold-crowned kinglet
Golden-crowned Kinglet
Golden-headed Manakin
Golden-headed Manikan
Golden-Olive Woodpecker
Goldeneye
Goose
Grackle
Gray Catbird
Gray Kingbird
Great Blue Heron
Great Crested Flycatcher
Great Egret
Great-horned Owl
Greater White-fronted Goose
Greater Yellowlegs
Greatest Hits
Grebe
Green Heron
Green Honeycreeper
Green-winged Teal
Groundhog
Guana Island
Hairy Woodpecker
Harbour Island Birding
Harlequin Duck
Hawk
Hepatic Tananger
Hermit Thrush
Heron
Hooded Merganser
Hooded Oriole
Hooded Warbler
Horned Grebe
Horned Larks
House Finch
House Sparrow
House Wren
Hummingbird
Indigo Bunting
Island Beach State Park
J.N. Ding Darling National Wildlife Refuge
Jamaica
Jamaican Mango Hummingbird
Jamaican Oriole
Jamaican Stripe-headed Tanager
Jamaican Woodpecker
Junco
Juvenile Green-winged Teal
Kestrel
Killdeer
Kingbird
Ladder-back woodpecker
Least Bittern
Least Flycatcher
Least Sandpiper
Lesser Goldfinch
Lesser Scaup
Lesser Yellowlegs
Lineated Woodpeckers
Little Blue Heron
Loggerhead Shrike
Long-Billed Curlew
Long-tailed Ducks
Loon
Magnolia Warbler
Mallards
Mangrove Cuckoo
Marbled Godwit
Masked Cardinal
Meadowlands
Mexican Jay
Mottled Duck
Mottled Ducks
Mountain Bluebird
Mourning Dove
Muskrat
Mute Swan
Nashville Warbler
nature scenes
New Hampshire
Night Heron
Nighthawk
Northern Cardinal
Northern Flickers
Northern Harrier
Northern Mockingbird
Northern Parula
Northern Pintails
Northern Shovelers
Northern Waterthrush
Nuthatch
Nutmeg Mannikin
Nuttall's woodpecker
Oak Titmouse
Ochre-bellied flycatcher
Oilbird
Olive-throated Parakeet
Orangequit
Orchard Oriole
Oregon
Oriole
Oropendola
Osprey
Oven bird
Ovenbird
Owl
Pacific Loon
Painted Bunting
Palm Springs
Palm Tanager
Palm Warbler
Pearly-eyed Thrasher
Pelican
Peregrine Falcon
Phainopepla
Pied Billed Grebe
Pied Cormorant
Pied-billed grebe
Pileated Woodpecker
Pine Siskin
Pine Warbler
Plain-brown Woodcreeper
Plover
Prairie Warbler
Puerto Rican Flycatcher
Puerto Rican Stripe-headed Tanager
Puerto Rican Tanager
Puerto Rican Woodpecker
Puerto Rico
Purple Honeycreeper
Purple Martin
Pygmy Nuthatch
Raccoon
Red Bellied Woodpecker
Red Breasted Nuthatch
Red Crossbill
Red Fox
Red Winged Blackbird
Red-bellied Woodpecker
Red-billed Tropicbird
Red-breasted Merganser
Red-eyed Vireo
Red-footed Booby
Red-Headed Woodpecker
Red-legged Thrush
red-naped apsucker
Red-shouldered Hawks
Red-tailed hawk
Red-throated Loon
Reddish Egret
Redheaded Duck
Ring necked pheasant
Ring-necked Duck
Ring-tailed Pigeon
Roadrunner
Rooster
Rose-breasted Grosbeak
Roseate Spoonbill
Royal Tern
Ruby Crowned Kinglet
Ruby-topaz hummingbird
Ruddy Duck
Ruddy Turnstone
Rufous-tailed Jacamar
Rufous-vented Chachalaca
Rutgers Newark
Sad Flycatcher
safflower seed
Salton Sea
San Joaquin Wildlife Sanctuary
Sanderling
Sandhill Cranes
Sandpiper
Sanibel Island
Savannah Sparrow
Say's Phoebe
Scarlet Ibis
Scarlet Tanager
Scaup
Seagull
Seal
Sharpshined hawk
Silver-beaked Tanager
Smooth Billed Ani
Smooth-Billed Ani
Snake
Snow Goose
Snowy Egret
Song Sparrow
Sora
Southern Lapwing
Sparrow
Spotted Sandpiper
Spotted Towhee
Spring Birds
Squirrel
squirrel monkey
Starling
Straight-billed Woodcreeper
suet feeder
Summer Birds
Summer Tanager
Surf Scooter
Swallow
Swan
Townsend's warbler
Tree Swallow
Tricolored heron
Trinidad and Tobago
Tropical Kingbird
Tropical Mockingbird
Tufted Coquette
Tufted Titmouse
Turquoise Tanager
Turtle
Veery
Verdin
Vermilion Flycatcher
video
Violaceous Euphonia
Violaceous Trogon
Virgina Rail
Warbler
West Indian Whistling Duck
Western Bluebird
Western Grebe
Western Kingbird
Western Meadowlark
Western Scrub-Jay
White Breasted Nuthatch
White Doves
White Ibis
White-bearded Manakin
White-breasted Nuthatch
White-cheeked Pintail
White-chinned Thrush
White-crowned pigeon
White-crowned sparrow
White-fringed Antwren
White-lined Tanager
White-necked Jacobin
White-tailed Tropicbird
White-throated Sparrow
Wild Turkey
Willet
Williamson's Sapsucker
Wilson's Warbler
Winter Birds
Wood Ducks
Wood Stork
Wood Thrush
Woodchuck
Woodpecker
Wrentit
Yellow Bellied Sapsucker
Yellow Breasted Chat
Yellow Crowned Night Heron
Yellow Headed Caracara
Yellow Rumped Warbler
Yellow Warbler
Yellow-bellied Elaenia
Yellow-breasted Flycatcher
Yellow-crowned Night Heron
Yellow-eyed Junco
Yellow-faced Grassquit
Yellow-Rumped Warbler
Yellow-throated Warbler
Previous Posts
The Information Dirt Road
Click on a picture to enlarge
Subscribe to
Posts [Atom]
Archives