Wood Ducks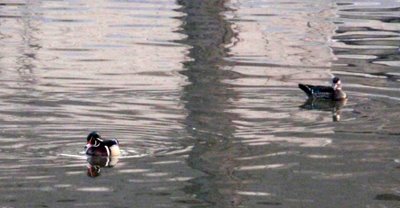 This pair caused quite a stir at our house very early this morning. We were having our coffee in the upstairs bedroom windows as usual, which offer the best view of a large portion of the lake. At first glance with the naked eye, Chris thought the Hooded Merganser couple was back. Fortunately she was quick to grab the binoculars and discover it was a male and female Wood Duck pair. She dashed for the camera, of course all the while exclaiming to Mike how she could not contain her excitement. It's a good thing she moved fast, because they only stayed for about 20
minutes
. We had seen a pair of these one day early last November also early one
morning
, and we hadn't seen any again until this morning. Chris sat out on the dock late this afternoon for an hour and a half hoping they would come by again so we'd have a clearer picture to put up, but they just didn't come by. The early
mornings
and late afternoons seem to be the best times for the less common types of ducks we see, so we'll surely be up early again tomorrow hoping for a repeat performance. The lovely female Common Merganser was here early in the morning too, and she was just demanding to be photographed again. I do love the way she is looking at him.
Labels: Winter Birds, Wood Ducks
Lynn said...

If you left the camera and binoculars right by the window, you would probably have less of this dashing about to get said objects. Of course, if you have more than one window this might cause some complications.
posted by Chris and Mike at 6:13 PM