There's something about a red head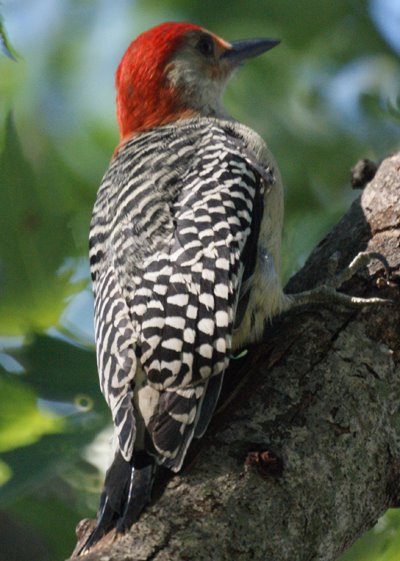 Recently, Mike has been asking Chris to dye her hair bright red. Chris keeps reminding Mike that its the male that has the full head of red.
Labels: Fall Birds, Red Bellied Woodpecker
Stunning

what kind of bird is this? i have one at my feeder in Vermont.

This red head bird hit my bedroom window today 4-16-11 in St. Louis,Mo. I had never seen a bird like this until today! What a beautiful bird!:)Latricia in STL

I have one at my birdfeeder right now. They are so beautiful. DD in Alabama

saw one eating dogfood in oklahoma stunning bird

Just saw one at my birdfeeder this morning for the first time. The red head was so striking!! He also was establishing a pecking order trying to keep the other birds away!! Marblehead MA

Saw one hanging out on a palm tree outside my window in Florida. Neat call on this bird.

Just saw this bird - twice- pecking in the corner of my house. We're located in Falls Church, VA (northern VA). Temp is 60 this morning.

So, what is it? There are three of them on the tree outside my office window in South Florida!!

it's called red-bellied woodpecker.

http://www.allaboutbirds.org/guide/red-bellied_woodpecker/id


Just saw this bird in my yard in Kaufman, TX 30 miles SE of Dallas, TX

Just saw this bird at my feeder in New Hartford, N.Y.

I have two with checks on the wings, a gray breast, and red head. Can't identify species or sex.

Just saw one atop my fence 6-19-14. I never saw one before, I live in Lake Charles, La


I saw one in central new jersey a couple weeks ago. Beautiful bird.

I saw one in central new jersey a couple weeks ago. Beautiful bird.

Just saw red headed bird at. Bird feeder in my backyard in Manchester NH. I have seen woodpeckers before but not like this bird. It was the size of a blue jay.

Why are they called redbellied, when its the head thats red?? Just saw one for the first time with a red stripe on the back of its head at the bird feeder.

Red-bellied woodpeckers are not called red-headed woodpeckers because the ones called red-headed woodpeckers have even more red on the head.
posted by Chris and Mike at 6:07 AM