Bald Eagle Nest at Duke Farms
There is a web cam at a bald eagle's nest on
Duke Farms
in Hillsborough, NJ. We watched on the web for a while this morning and saw the eagle feed two chicks. A screen capture is below. The live web cam feed can be accessed from the
Duke Farms
web site or if all works well, clicking on the bottom image.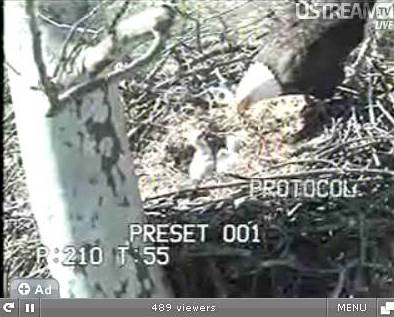 PLEASE NOTE: Bald Eagles are extremely sensitive to human disturbance. At no time should anyone approach nesting eagles. People who want to observe or photograph eagles and who come too close may actually cause the birds to abandon a nest.
Federal law
also protects eagles with penalties up to $10,000 and 2 years in jail.
Labels: Bald Eagle
Lynn said...

That would be prison, not jail. Federal prison, to be exact. You do not want to go there. Your bird knowledge may be stellar, but it seems you still need a criminologist in the family.
posted by Chris and Mike at 10:44 AM