Winter Robins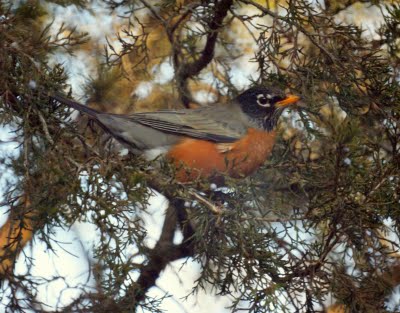 When Mike was getting ready for work this morning, Chris noticed we had some Robins in the yard. She ran outside to throw some cranberries around for them. Then when he was leaving, Mike suggested that Chris try to get some photos for the blog. By that time, the flock of robins had increased to about 30, which made it all the more fun for Chris. They were everywhere! They didn't seem the least bit interested in the cranberries, preferring to hunt on the ground instead. Chris even put out some dried mealworms which they took no interest in. What they really do seem to appreciate, though, is the water. We use a heated bird bath during winter to keep the water from freezing, and it is popular with all the birds, especially the goldfinches. One picture shows three at a time at the water, but at times there were up to five (which Chris found too difficult to capture in pictures but had fun watching.) We really wish we could figure out what birds are supposed to eat the popcorn and cranberries, because we popped a lot of popcorn and only the Blue Jays have taken a few pieces.
Labels: American Robin, Winter Birds
Everyone said I was seeing things. There WERE robins all over the place yesterday. I have never noticed them in the winter before.

We're in Warren County, and we've got them too! I'll try to get pictures!! Why are they here?

WINTER ROBINS! WHAT A LOVELY SIGHT... HAD A HUGE FLOCK OF THEM EARLY THIS MORNING.. I HAVE NEVER SEEN THEM IN THE AREA THIS TIME OF YEAR(SUCCASUNNA,NJ). THEY ATE ALL THE IMMATURE JUNIPER BERRIES FROM LARGE SHRUB AND THEN FLEW AWAY....HOPEFULLY TO A WARMER CLIMATE.

Chris and Mike said...

Chris was listening to a public radio program on the internet about birding a while back and learned that the robins do stay around in the winter and travel in flocks looking for berries in place of worms. Still, we don't have much recollection of seeing them other winters either. We do have some berries but that wasn't what they were interested in when they were here. The water seems to be the popular draw with this freezing weather. It is fun seeing them, and it's good to hear everyone else is enjoying them too!

You touched dried mealworms?! This birding thing really has changed you.

Morris County serverl flocks are being reported. We can not find out why so many are appearing.

We just had a visitation by dozens of robins, bathing in the creek behind our house (in Princeton). They sat in the icy water as if it were summertime, splashing and cleaning themselves. Sorry I didn't have the camera at hand!

I live in Bergen County and for the past three days we have had Robin swarming an odd bush in our yard (we call it the bush that won't die). Apparently it bears a treat for the Robins. I have never seen them in the bush before--maybe only a winter treat?

I had a flock of robins by my bird feeder this past week in Newton, NJ..Sussex County. They were all males...Feb. 23, 2010. I have a crab apple tree and also provide a heated bird bath. I also had a large flock of males briefly last year around the same time...

Friday, Feb. 26, 2010, I saw 100 robins in a tree that was nearby the Shark River on the Neptune side of the Belmar Bay. I hve a holly tree just off my deck and they are eating red berries each time it snows. I hve wonderful pictures. Can't imagine why I've seen so many since after Christmas. wish somebody would find out. I read somewhere they come back to N.J. when the mean temperature is 36 degree and above. That explains a little bit, anyway

We live in Monmouth County and while shoveling out from the storm this morning, we saw hundreds of robins emerge from one of our small holly trees. They flew to other trees, stayed there awhile, and and then would fly back to the holly. It was an incredible sight!

I live in Monmouth county near Adelphia. we also had a flock of robins of about 30 the other day. it was amazing - not a single holly berry was left. they showed no interest in the other bird seed. there were also some large crows that showed at the same time, and left at the same time. interestingly, the usual blue jays, cardinals, small birds, and squirrels, did not show up while the robins were there.
posted by Chris and Mike at 7:10 PM